In Canada, most people pregnant with their first child attend a childbirth education class – about 66%.1 The US has similar numbers, with around 59% of first timers attending.2
These classes are generally intended to educate and prepare people for labour. But what do we know about the impact they have on peoples' labour and delivery experiences, if any?
Turns out, it really depends on the type of class you take and what it teaches.
What types of classes do most people take?
In Canada, about 60% of women attend classes in a hospital or at a health clinic.1 In the US, 82% of women take hospital-based classes.2 Unfortunately, some hospital classes include limited prenatal content and instead use the time to offer a hospital tour and discusses the rules and routines of the hospital. Some childbirth educators say hospital courses are 'an orientation to hospital rules on how to be a compliant patient'3, while others suggest prenatal education can simply reinforce the medical management of labour and birth, thus failing to address some of the potential issues and complications of medical pain relief.4-7
Although limited, research has found that addressing the mindset of pregnant people when it comes to labour, as well as teaching a variety of pain management techniques, are effective at significantly impacting outcomes such as epidural use and C-section rates.
We'll save our discussion on mindset for another post, and today we'll look at the type of information that is most beneficial to learn in a childbirth education class.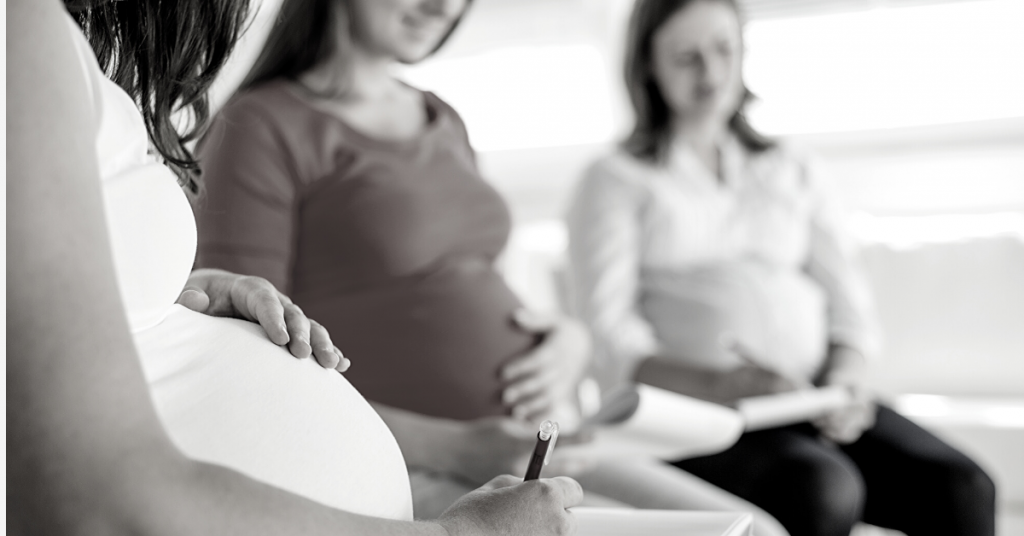 How do researchers study the impact of childbirth education?
Since classes can vary so much, it is hard to conduct research on childbirth education classes. So instead of looking at a large review that takes into account many types of childbirth education (which exists, but was unable to form any conclusions due to variability)8, we are going to examine one well-designed study that allows us to gain some insight into what type of education may be beneficial.
In two hospitals in Sydney, Australia in 2016, 176 first-time pregnant people with low-risk pregnancies were randomly assigned to one of two groups.9
What was the impact of complementary therapy prenatal education course?
There were no differences in spontaneous onset of labour, pethidine use (which is an opioid pain killer typically known as Demerol), rate of postpartum haemorrhage, major perineal trauma (3rd, 4th degree tears/episiotomy), or admission to special care nursery/NICU.
What does all this information mean?
The right childbirth education can make a very meaningful difference in pain management and decrease the need for medical interventions
Childbirth education needs to:

Discuss birth as a normal physiological event
Focus on teaching multiple scientifically proven methods women and their partners can use during labour and birth, including:

Acupressure
Visualization and relaxation
Breathing
Massage
Yoga techniques
Facilitated partner support
References: 1. Public Health Agency of Canada. What mothers say: The Canadian maternity experience survey. Ottawa (ON):2009; 2. Declercq ER, et al. Listening to mothers III: pregnancy and birth. New York (NY):2013; 3. Leach J, et al. J Perinat Educ. 2017;26(1):49-56 ; 4. Green JM, et al. Birth. 2007;34:6–13; 5. Ferguson S, et al. Women Birth. 2013;26:e5–8; 6. Walker DS, et al. J Midwifery Womens Health. 2009;54:469–76; 7. Lothian JA. J Perinat Educ. 2007;16:62–7; 8. Gagnon AJ, et al. Cochrane Database Syst Rev. 2007; 8:CD002869; 9. Levett KM, et al. BMJ Open. 2016; 6(7): e010691
Disclaimer: The information in this post absolutely does not constitute advice from a healthcare professional and is solely intended to provide you with general information. Each person is unique with individual circumstances, and as such some or all information may not apply to you.
This information does not substitute for your healthcare provider's medical advice and should not be relied upon as such. Before making any decisions, be sure to reach out to a qualified healthcare professional. If you are pregnant and need to be examined, please see a physician, nurse practitioner, midwife or obstetrician.
We strive to ensure that the information provided is accurate, evidence-based, and reliable, but cannot guarantee that it is error-free or complete.